Welcome to the homepage for Greenville Public Safety Pipes and Drums.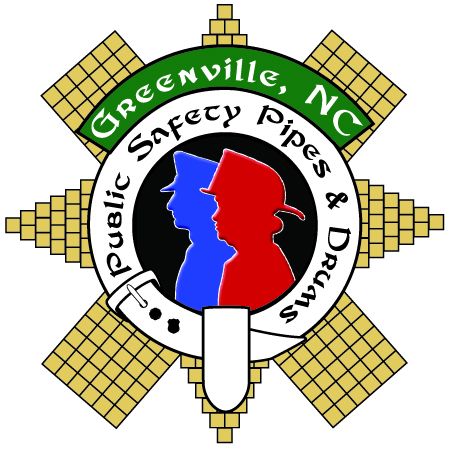 Our Motto: ~ Lest We Forget ~ 
Our Tartan:  Campbell of Inveraray (Adopted 2018)
Original Tartan:  Modern Mitchell
Led by Pipe Major John R. Tyson, we are driven to recognize, honor, and pay tribute to those who put their lives on the line every day. Our primary focus is to perform at ceremonies and events for Fire/Rescue, Law Enforcement, and Military in Eastern North Carolina.
We hope to build closer relationships between the Public Safety Professionals and the Community they serve through traditional Scottish and Irish bagpipe music.  Our band takes pride in visiting area schools to educate our youth in Celtic and Scottish Culture.  We perform many times a year at area schools and provide a question and answer period, where students can interact with band members and learn about the uniform, instruments, and the history of the music.
Greenville Public Safety Pipes and Drums is a Non-Profit 501(c)(3).  We were formed in 2008 and incorporated in 2009 with the intention of providing funeral and memorial services free of charge to the Police and Fire Community in Eastern NC.  This focus has expanded to include military personnel killed in action.  The members of our organization feel a strong sense of country and commitment to the services in addition to our local community heroes.
In 2017 our organization expanded to include a Bugle Corps and a Color Guard so we could provide full service to our local heroes.
Greenville Public Safety Pipes and Drums is funded 100 percent by donation.  Donations are tax deductible.  Donations are kept in the band's accounts and utilized for uniform and equipment expenses along with travel expenses to and from performances within the scope of our mission.  Our band is often sponsored by local corporations.  Please visit the Sponsors link at the top of this page and support the businesses that support us.
In 2018 we officially adopted the "Campbell of Inveraray" tartan as tribute to Fallen Greenville Police Officer Jason Campbell who died in the line of duty in 2007.  Officer Campbell was the catalyst for the formation of this band.  We are proud to wear this tartan with the permission of the Duke of Argyll, a Scottish Duke and Chief of the Clan Campbell. He issued a Proclamation dated July 4, 2017 stating his intentions.
Stay up to date by following our social media pages:
Enter your email below to receive event notifications and invitations from our band. Never miss another performance.  We will keep your information private.  Add us to your safe senders list to make sure we don't hit your spam folder.  Email the webmaster if you have any questions.
No Comments
RSS feed for comments on this post.
---